Walter Hofmann is a 3 Doors Academy graduate and a Presenter who leads a well-established practice group in Zurich, Switzerland. He is also partnering with other Academy participants to found a new organization, "breathe..! Meditation for you" to reach wider audiences. This is the first article in a new series, The 3 Doors in Community, where we introduce our Presenters who are making personal connections in their home places through leading practice groups and projects.
At the end of every second work week, a group of therapists and other professionals come together to practice and share at the Shogen-Dojo in Zurich, Switzerland. Led by 3 Doors European Academy Graduate and Presenter Walter Hofmann, and assisted by his wife and current 3 Doors Academy participant Rita Rickenbacher, they practice the 3 Doors meditation methods, share tea, and once a year, the whole group goes out for dinner together at restaurant in Zurich.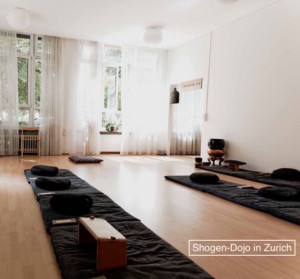 The typical Friday evening practice begins, after sharing tea, with the 9 Breathings as the group settles into Inner Refuge. From this place of Inner Refuge, they practice Tsa Lung and then continue to sit for a short period of time. After a silent break, they sing the Warrior Seed Syllables. When they share tea again at the end, there is time for conversation and questions.
For more information on these meditations at Shogen-Dojo, contact swiss3doors@gmail.com
Based on the success of this long-term practice group, Walter, Rita, and two additional 3 Doors practitioners Chris Bruppacher and Jill Keiser recently founded an association called "breathe..! Meditation for you" to present the 3 Doors practices and bring relief to people's busy lives. In addition to weekly practices, they will also organize special events, such as workshops and weekend retreats, with visiting 3 Doors senior teachers and teachers from similar traditions.
In partnership with the modern meditation center NOW-Meditation located in the heart of Zurich, Walter will be offering two 30-minute stress reduction classes a week:
Monday (6:00 pm): "breathe..!" to practice Inner Refuge and the 9 breathings (30 minutes)
Friday (12 noon): "Sound" to practice the Warrior Seed Syllables (30 minutes)
For more information about "breathe..! Meditation for you": visit www.breathe-zuerich.ch or contact breathe@ggaweb.ch.