The 6th North American Academy will begin in April of 2021. The six group retreats for each Academy are being held at Serenity Ridge Retreat Center in Shipman, Virginia.  All North American Academies are taught by 3 Doors Senior Teachers, Marcy Vaughn and Gabriel Rocco.  Please find the program details below.
Program Description and Benefits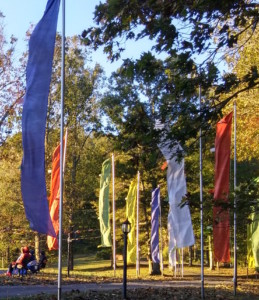 The Academy provides you with the opportunity to engage deeply in the process of self-discovery. It is rigorous in the sense that you are asked to make an active and on-going commitment to self-reflection and meditation. It is challenging at times, since facing yourself can be humbling and disorienting. And it is frequently joyful, since the freedom of going beyond perceived limitations and experiencing the abundant resources of your true nature is liberating.
A great strength of the program is that it draws upon the collective power of the group for support in transforming personal limitations. The trainee participates in six residential retreats, shares experiences in monthly small group conference calls with a mentor, and draws upon the mentor relationship for individual guidance and direction. The Academy environment is one of complete confidentiality, support, and the genuine warmth that emerges when people openly share their journeys with one another. The Academy program concludes with a formal graduation ceremony.
Presenters: Senior Teachers Marcy Vaughn and Gabriel Rocco
Location: Shipman, VA
Dates:  **The first date listed is the arrival day.**  Arrival for each retreat is on a Wednesday after 3 pm and departure will be on the following Tuesday at 1pm, unless otherwise noted.  All current Academy dates can be found on our Program Dates page, under North American Academy.  The following dates are for the upcoming 6th North American Academy.  Dinner will be served and retreat sessions start early the following day.
April 28 – May 4, 2021
October 6 – 12, 2021
April 20 – 26, 2022
Oct 5 – 11, 2022
April 19 – 25, 2023
TBD
Cost: Application fee of $100.  Tuition costs $10,900 for the entire 2 ½ year Academy training program.  This includes a $760 Registration Deposit, due 30 days after receiving the acceptance letter.  Six tuition payments of $1690 are due 30 days prior to each group retreat.  The cost of transportation to and from retreats, as well as accommodations/meals at retreats (ranging from $360 – $1200) are separate from the cost of tuition.
Six group retreats of five and one-half days each, spanning the two and one-half year program, two group retreats per year.
Program study materials including written practice instructions and the recordings of the teachings and guided meditations from each group retreat
Five one-hour individual mentor sessions
Monthly group conference calls with your mentor
Video presentations from the Founder, Tenzin Wangyal, after each of the first five retreats
The support of a close community of practitioners through this program and beyond
Upon graduation, the opportunity to be a part of the international 3 Doors Practitioner Association (3PA)
The 3 Doors Academy is a 2 1/2 year commitment of focus and energy. You will be invited to fulfill these requirements:
Attend all six group retreats
Maintain a daily practice of 3 Doors meditations both formally (on the cushion) and informally (in daily life)
Explore repetitions of the A OM HUNG RAM DZA mantra as a support practice and as instructed by your Academy teachers.
Document 63 transformations made through meditation practice, self-reflection, and journaling taking place in relationship with yourself, with your family and others, and in your professional life or participation in society
Complete 21 personal retreat days, with no single retreat being shorter than three days
Participate in five hours of personal meetings with your mentor
Participate in monthly group conference calls led by your mentor during the program, with one final group conference call following graduation
Gabriel Rocco, Senior Teacher
Gabriel Rocco has studied and practiced under the guidance of Tenzin Wangyal for twenty years. Gabriel earned his Master of Arts in Contemplative Psychotherapy from Naropa University in 1982. His personal meditation practice benefits from intimate study with leading meditation masters, spiritual teachers, and healing professionals from a diversity of healing traditions. Gabriel is a senior instructor for the University of Pennsylvania's Penn Program for Mindfulness where he teaches Mindfulness­ based Stress Management programs, advanced classes in meditation, and leads group retreats.
Gabriel served as the Mind Body Specialist at The Wellness Community of Philadelphia for twenty years where he facilitated an assortment of programs to support cancer patients and caregivers through the integration of mind, body, and spirit. His private practice of Contemplative Mentoring is conducted at the Contemplative Arts Studio in Bryn Mawr, PA, as well as via the internet. He frequently teaches with his wife, Marcy Vaughn.
Marcy Vaughn, Senior Teacher
Marcy Vaughn has been a practitioner of Tibetan Buddhism for more than forty years and is a senior student of Tenzin Wangyal Rinpoche. Marcy was in the first graduating class of the master's program in contemplative psychotherapy at Naropa University where she also taught and performed in a dance ensemble. She is currently a therapist in private practice in Bryn Mawr, Pennsylvania where she offers meditation groups and retreats with her husband, Gabriel Rocco.
Marcy works in close collaboration with Tenzin Wangyal Rinpoche and has edited his booksTibetan Sound Healing, Awakening the Sacred Body, and Awakening the Luminous Mind. She teaches throughout the US, Mexico, and Europe for Ligmincha International and is a teacher in The 3 Doors US Academy.