Para ver esta página es español, use la opción de traducción de Google en la esquina superior derecha de la página.
The Next Latin American Academy Begins in February, 2020.
Graduation video of the first Latin American Academy.
Program Description and Benefits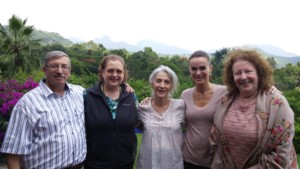 The Academy provides you with the opportunity to engage deeply in the process of self-discovery. It is rigorous in the sense that you are asked to make an active and on-going commitment to self-reflection and meditation. It is challenging at times, since facing yourself can be humbling and disorienting. And it is frequently joyful, since the freedom of going beyond perceived limitations and experiencing the abundant resources of your true nature is liberating.
A great strength of the program is that it draws upon the collective power of the group for support in transforming personal limitations. The trainee participates in six residential retreats, shares experiences in monthly small group conference calls with a mentor, connects with others in the group to encourage personal practice, and draws upon the mentor relationship for individual guidance and direction. The Academy environment is one of complete confidentiality, support, and the genuine warmth that emerges when people openly share their journeys with one another. The Academy program concludes with a formal graduation ceremony.
Presenters: Senior Teachers Alejandro Chaoul and Laura Shekerjian
Location: Tepoztlan, Mexico
Dates:  The dates for the upcoming Academy are:
February 22 – 28, 2020
September 12 – 18, 2020
February 20 – 26, 2021
September 11 – 17, 2021
February 19 – 25, 2022
TBD
Cost: 1000 MXN application fee, 6500 MXN registration fee (due thirty days after receiving your acceptance letter), six tuition payments of 18,750 MXN (due 4 weeks prior to each group retreat).  Accommodations/meals are a separate cost, ranging from 5,500 to 7,000 MXN at each retreat.
Contact: If you have any questions about the upcoming Academy, please contact Martha at maroal2016@yahoo.com.mx
Six group retreats of five and one-half days each, spanning the two and one-half year program, two group retreats per year.
Program study materials including written practice instructions and the recordings of the teachings and guided meditations from each group retreat
Six one-hour individual mentor sessions
Monthly group conference calls with your mentor
The support of a close community of practitioners throughout and beyond this two and one-half year program
Upon graduation, the opportunity to be a part of the international 3 Doors Practitioners Association (3PA)
The 3 Doors Academy is a 2 1/2 year commitment of focus and energy. You will be invited to fulfill these requirements:
Attend all six group retreats
Maintain a daily practice of 3 Doors meditations both formally (on the cushion) and informally (in daily life)
Explore repetitions of the A OM HUNG RAM DZA mantra as a support practice and as instructed by your Academy teachers.
Document 63 positive changes made through meditation practice, self-reflection, and journaling taking place in relationship with yourself, with your family and others, and in your professional life or participation in society
Complete 21 personal retreat days, with no single retreat being shorter than three days
Participate in six hours of personal meetings with your mentor
Participate in monthly group conference calls led by your mentor
Alejandro Chaoul, Senior Teacher
Alejandro Chaoul has studied in the Tibetan tradition since 1989, and for over 20 years with Yongdzin Tenzin Namdak and Tenzin Wangyal Rinpoche. He holds a PhD in Tibetan religions from Rice University and is the director of the new Mind Body Spirit Institute at the Jung Center of Houston. He teaches meditation classes and workshops nationally and internationally through The 3 Doors and Ligmincha International. Since 1999 he has designed and taught mind-body interventions for the Integrative Medicine Program of the MD Anderson Cancer Center in Houston, TX, where he holds a faculty position and conducts research on the effects of these practices in people with cancer. He is an associate faculty member at The University of Texas' McGovern Center for Humanities and Ethics, where he teaches medical students in the areas of spirituality, complementary and integrative medicine, and end of life care. In addition to teaching the Latin American Academy, Alejandro serves on the research committee at The 3 Doors and is a Fellow at the Mind & Life Institute. Alejandro is the author of Chod Practice in the Bon Tradition (Snow Lion, 2009) and Tibetan Yoga for Health & Well-Being (Hay House, 2018). He lives in Houston with his wife, son, and daughter.
Laura Shekerjian, Senior Teacher
Laura Shekerjian is a psychotherapist practicing in Berkeley, California and a long-time practitioner in the Bön tradition. Holding master's degrees in counseling psychology as well as Buddhist studies, she has worked for over twenty years in individual, group, and classroom settings to actively engage her clients and students in the process of self-discovery.
Laura utilizes a variety of therapeutic approaches, such as dream work, somatic awareness, and western psychological insights, as she guides others towards the realization of their essential natures. Laura was adjunct faculty for many years in the departments of somatic psychology and counseling psychology at John F. Kennedy University and the California Institute for Integral Studies. Currently, Laura teaches in The 3 Doors Latin American Academy as well as for Ligmincha International. Laura has participated in the translation of texts from Tibetan to English.