The 3 Doors Compassion Project
The 3 Doors Compassion Project teaches simple, accessible meditation practices to healthcare professionals, educators, therapists, and those who wish to empower their capacity to serve others and experience the benefits of self-compassion. In this 9-month program, we will explore how The 3 Doors meditation practices of body, speech, and mind can support personal transformation and the emergence of positive qualities in relation to self, family, and community.
Through personal reflection and meditation, you will develop skills to prevent burnout and restore your natural resilience.  This program will support you to:
Renew energy and reduce stress levels 

Respond to others from a place of presence and compassion

Practice 

self-compassion

Recognize and deeply experience everyday moments of joy

Process

 difficult or painful situations with more ease 

Learn ancient Tibetan meditation practices from the Dzogchen tradition of Bon Buddhism, taught in a way that is relevant and accessible to all.
Compassion Project Programs
Compassion Project LIVE Online Practice Sessions
All current and past Compassion Project participants are invited to join together for free guided practice and discussion sessions led by Marcy Vaughn and Gabriel Rocco. The 3 Doors Compassion Project community will meet online via Zoom on these Wednesdays – mark your calendars for:
January 16, 2019 –  12 to 1:30 p.m. EST (New York time)
February 6, 2019 – 12 to 1:30 p.m. EST (New York time)
March 6, 2019 – 12 to 1:30 p.m. EST (New York time)
April 10, 2019 – 12 to 1:30 p.m. EST (New York time)
May 8, 2019 – 12 to 1:30 p.m. EST (New York time)
If you would like to join by phone, please contact chelsea@the3doors.org for information.
We hope you will enjoy these LIVE online community gatherings as ongoing support for your practice. If these times don't work with your schedule or you would like to re-listen to one of the guided practices, please know that the sessions will be recorded and archived for your use.  You will be able to access these recordings from this page shortly after each live session.
LIVE Practice Session Archive
Please click here to access the password protected archive of the Compassion Project LIVE Online Practice Sessions.
Compassion Project Scholarship Fund
Help support others to join our community.
If you feel inspired to give, we are currently raising support for our "Compassion Project Scholarship Fund", and any amount is welcome. The donation process is simple and quick – copy the text "Compassion Project Scholarship Fund", click the above Donation button, and paste the text into the "add specific instructions to the seller" line.  All donations default to one-time gifts, unless you select the option to make a monthly donation.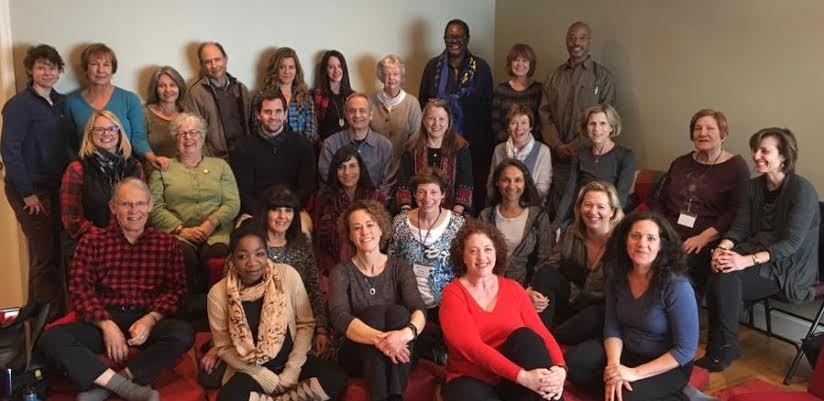 First 9 month Compassion Project group, 2016.
The most helpful part of the program for me was the support of the small groups, providing the opportunity to practice intimately, twice a month, and benefit from each other's questions and sharing. As an Academy graduate and later a 3 Doors Presenter, I found it invaluable to hear the subtle changes Marcy and Gabriel made in their teaching and vocabulary over the years. The recordings and the current ongoing monthly guiding

 

continue to be a wonderful support.
Because my own practice is deepening, it comes into how I teach mindfulness. Last weekend I did a workshop on cultivating compassion and I could really feel the depth of my own practice supporting how I was able to hold the space.
I was grateful for a chance to deepen my meditation practice and appreciate the perspectives that Marcy and Gabriel each bring. I also loved the diverse community of practitioners. In every small group experience, I found what others offered as a way to deepen my own experience. Also, having the opportunity to share my experience, helped me clarify and own it, which, for me leads to on-going reflection.
I've gained more understanding in relationships with my clients and a lot more compassion for the nurses and nursing aides I work with. I'm able to see what they have to deal with and understand a lot better where they're coming from.
Because I've spent most of my life doing and not necessarily "being", this is a seismic shift in my approach to living – and the benefits are profound… Being able to just be with the things that I struggle with is another level of self-care that I haven't ever experienced before.
I find that there is a settling that is noticeable after a few months in the 3 Doors. I am able to trust that just being there is helpful, without the pressure to make the right interpretation and say the right thing. Something is different in me. It is more enjoyable.