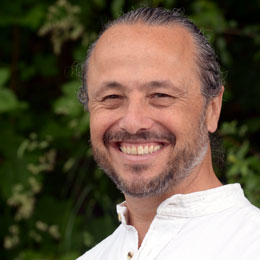 In this episode of the Wisdom Podcast, host Daniel Aitken speaks with Alejandro Chaoul, scholar and practitioner in the Bön tradition of Tibet and teacher of Tsa Lung Trul Khor, the art of Tibetan yantra yoga. In Tibetan, Tsa Lung means "channels and winds" while Trul Khor translates as "magical movements." Alejandro is a professor at the M. D. Anderson Cancer Center in Houston, where he researches Tibetan mind-body techniques for cancer patients. In this fascinating conversation, you'll hear Alejandro share his lifelong spiritual journey—from studying with Hindu masters in India, to practicing Dzogchen with Yeshe Dorje Rinpoche and Namkhai Norbu Rinpoche. Alejandro talks about what initially drew him to the Bön tradition, and how his primary teachers, H. E. Yongdzin Tenzin Namdak Rinpoche and Geshe Tenzin Wangyal Rinpoche, have profoundly shaped his life and career. Alejandro also shares insights on what distinguishes Bön from other Tibetan traditions, as well as the differences between Tibetan yoga and Indian yogic traditions.
The 3 Doors is launching a new program in March-April 2019, led by Alejando, called Exploring your Wisdom Breath Energies. If you would like to experience or refresh your practice of Tsa Lung, you can read more about this program or register HERE.
Wisdom Publications (link to 
https://www.wisdompubs.org/about-wisdom
) publishes of books, podcasts, and online courses on contemporary and classic Buddhism, mindfulness, and meditation. Their podcast series features interviews with leading thinkers who share stories and discuss life-changing practices, timeless philosophies, and new ways to think and live.