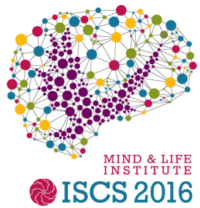 We are excited to share that Senior 3 Doors Teacher Alejandro Chaoul, Ph.D., is an invited Contemplative Faculty presenter at this year's Mind and Life's International Symposium for Contemplative Studies (ICSC), hosted by the Mind & Life Institute. During this 4-day conference, Nov. 10-13, in San Diego, Ale will lead a Tibetan Meditation practice with sounds called the Warrior Syllables, one of the main practices of The 3 Doors programs. He will also be presenting his MD Anderson Cancer Center research of Tibetan Yoga and Tibetan meditation for people with cancer and their caregivers.
During a contemplative session called Tibetan Sound Meditation, attendees will learn about and practice a Tibetan meditation method that has been shown to improve short-term memory and cognitive speed function in women who felt cognitive impairment after undergoing chemotherapy for breast cancer. Additionally, Ale will be presenting a paper, "Randomized trial of Tibetan Yoga in Woman with Breast Cancer Undergoing Chemotherapy" and a poster, "Meditation group classes improve cancer patient and caregiver distress."
"I am honored to be presenting in this symposium, next to meditators, researchers and scholars that I look up to, in what I consider the premier forum of its kind. It is also a wonderful opportunity to raise awareness for Tibetan contemplative practices that I learnt from my beloved teachers, and some of the research that my colleagues and I were able to conduct," commented Ale, who is also an Assistant Professor and Director of Education at MD Anderson Cancer Center's Integrative Medicine Program.
Among several other contributors, Ale was joined in this research by 3 Doors and Ligmincha Institute Founder, Tenzin Wangyal Rinpoche, and the Principal Investigator for these studies was Lorenzo Cohen, PhD, Director of the Integrative Medicine Program at MD Anderson Cancer Center in Houston, TX.
RESEARCH
Milbury K, Chaoul A, Biegler K, Wangyal T, Spelman A, Meyers CA, Arun B, Palmer JL, Taylor J, Cohen L. Tibetan sound meditation for cognitive dysfunction: results of a randomized controlled pilot trial. Psychooncology. e-Pub 5/2013. PMID: 23657969.
Chaoul A, Milbury K, Spelman A, Engle R, Arun B, Wei Q, Harrison C, Perkins G, Valero V, Babiera G, Wangyal T, Cohen L. Randomized trial of Tibetan Yoga in Breast Cancer Patients Undergoing Chemotherapy, 13th International Conference of the Society for Integrative Oncology, 2015.
ABOUT
Mind and Life's International Symposium for Contemplative Studies (ISCS) is a biennial academic conference that brings together leaders from wide-ranging fields, including neuroscience, psychology, clinical science, philosophy, economics, humanities, physics, and education. www.mindandlife.org
The 3 Doors is an international meditation organization founded by Tenzin Wangyal Rinpoche that teaches Tibetan meditation methods with practical applications for everyday life. Transforming lives through meditation. www.the3doors.org
For additional information or media inquiries, please contact chelsea@the3doors.org.