Your support helps to share The 3 Doors meditation practices with more people.
We are expanding our programs to bring the benefits of The 3 Doors ancient Tibetan meditation methods to more people around the world. Our Founder, Tenzin Wangyal Rinpoche, selected the specific meditation practices taught by The 3 Doors for their relevance to modern life and their ability to benefit all people, regardless of any religious affiliation.
The 3 Doors practices are increasingly finding their way into workplace environments because of their "off the cushion" applications for group dynamics, leadership development, and relationship-building. Graduates of our 2½ year Academy program in Europe, Latin America, and North America are finding new opportunities to introduce these life changing practices to groups in their communities.  This past year we launched a Compassion Project for healthcare, education, and social service providers and a Conscious Leadership workshop for universities and businesses. Research is an essential part of this growth. Longitudinal studies for the Academy program are underway as well as an Education research project to study the effects of the 3 Doors practices with teachers and students in elementary and secondary schools.
Raising self-awareness improves our own life and the lives of those around us. It also raises collective awareness, making our communities a better place for all.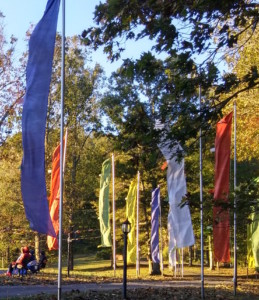 MAIL-IN DONATION FORM
To donate by check, dedicate your donation in honor of someone, or contribute to a specific cause, please print this DONATION FORM and mail it to:
Adriana Hernandez
Attn: The 3 Doors
517 Cornelia Ave
Mukilteo, WA 98275
AMAZON SMILE PROGRAM
Next time you shop on Amazon.com, go to AMAZONSMILE.COM.  If you select "The Three Doors" as your charity, then .5% of your purchase will be donated to The 3 Doors at no cost to you. The program is fully integrated with your regular Amazon account and has the exact same product and pricing selections.